Common Uses of Rigging Screw Turnbuckle
As mentioned above, Rigging Screw Turnbuckle can be used with a piece of rope, cable or other rigging component as a connection point to adjust slack and tension within a rope.

Turnbuckles can be used for something as simple as a fence or as complex as a drawbridge. Some industries that commonly use turnbuckles are:
Sports and Entertainment - Turnbuckles are used as a holding point and to create tension in the ropes around a wrestling or boxing ring. Of course, you can't see them because they are covered with a soft material to keep the athletes safe.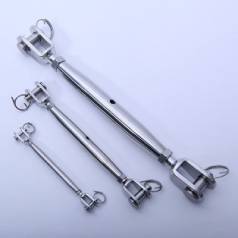 Rigging Screw Turnbuckle
Marine Transport - Closed Body Rigging Screw Turnbuckles are often used to tension lashing and rigging components of ships.
Construction - Turnbuckles are commonly used to provide tension support for suspension bridges, large buildings and highway guardrail cable assemblies.
Aviation - Cables and wires in aircraft structures - wings, flight control systems, etc. - are tensioned by turnbuckles.
Please feel free to contact Rigging Screw Turnbuckle Manufacturers with your needs