Turnbuckle eye & hook – adaptable and functional
Turnbuckle eye & hook.Our great value range of hook to eye wire rope tensioners are essential for outdoor and landscaping projects as well as in boat rigging, sculpting and artworks.Made from enduringly resistant marine grade stainless steel,the idea is that they adhere your wire ropes in place once the ideal tension has been achieved.
Fast and easy to adjust,a good tip is to start with your turnbuckle around 50% engaged so you can apply the desired tension once it's in place.Just rotate the central strainer body by hand when you release the threaded eye and hook ends.When your turn buckle connected, just tighten the turnbuckle by rotating to create the tension.
A key thing to remember is that wire ropes should never get twisted. If they do, they can become dangerously weakened.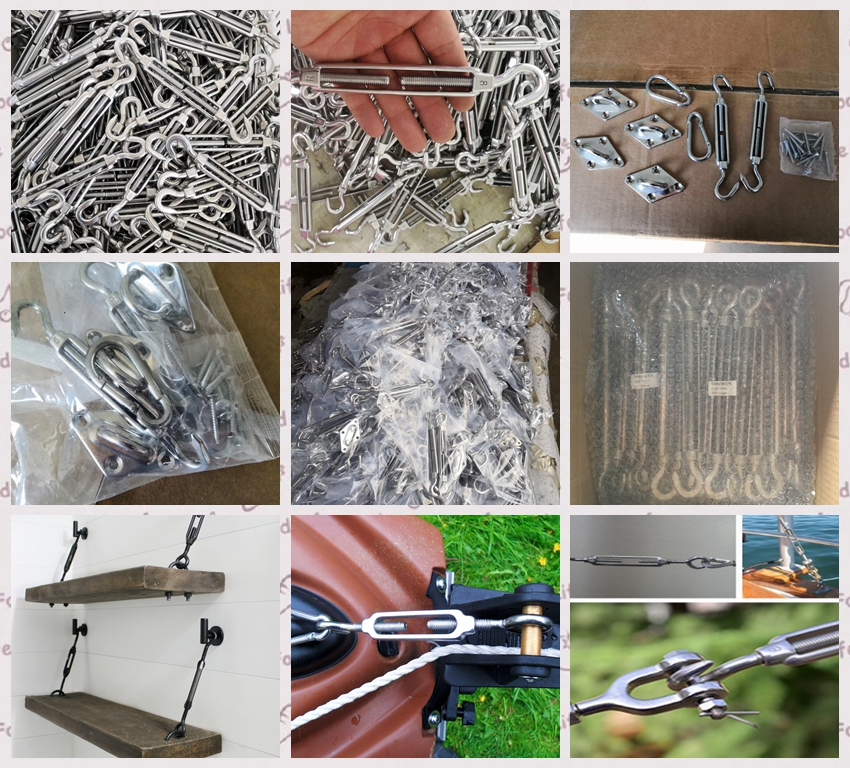 The Hook and Eye Turnbuckle feature an open body and are available in sizes ranging from 4mm to 20mm to fit every project. These turnbuckles are made from grade 304 or 316 stainless steel for maximum corrosion resistance and durability, making them ideal for marine and industrial use.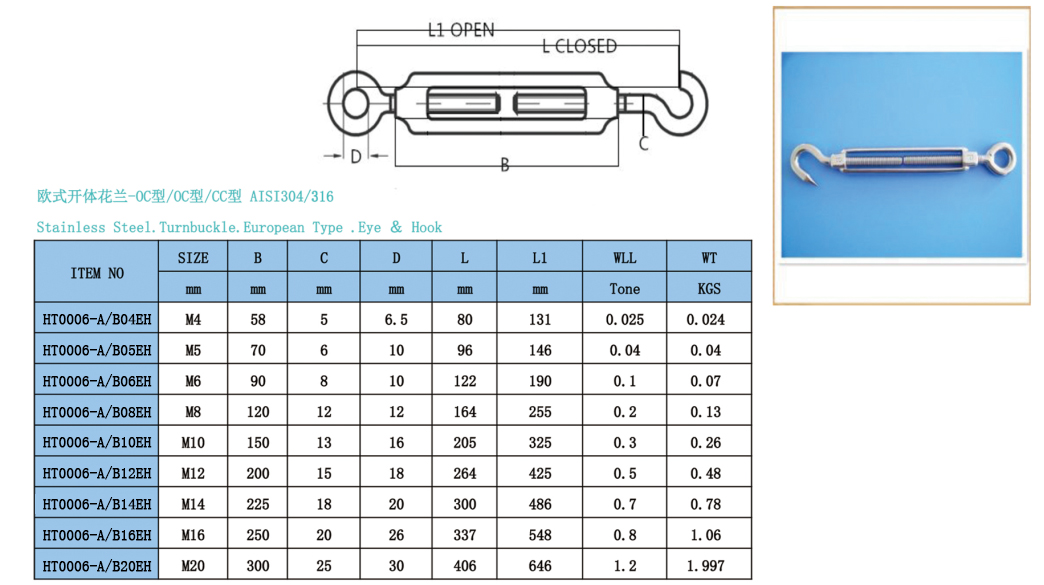 Turnbuckle eye & hook
Let us know which turnbuckle you need.
From our warehouse in Haito Rigging, we offer a range of rigging screws and turnbuckles.They come with a variety of fittings for each end to suit your particular application,such as eye and eye, eye and hook, hook and hook, jaw and jaw, hook and jaw, etc. Some rigging screws are fitted with locking nuts/barrel strainers to ensure that there is no unwanted loosening of the rope.
To put in your order, just fill out our short Inquiry form here, but please do ask us if you need anything custom-made.
If you wish to ask a question or need further advice, you are welcome to contact us. We'll be happy to help.
We are always available for clarification and for order.
We look forward to hearing from you!