Turnbuckle Hook & Hook
If you're searching for a specific size or design of turnbuckle, then take a look today at our supply of turnbuckles right here at Haito.
Turnbuckle hook & hook-functional and non-corrosion.
Our incredible spectrum of hook to hook wire rope tensioners are perfect for garden projects and landscaping and in yacht rigging and art installations too. Made from top quality stainless steel,they are simply designed to fix your wire ropes to where they need to be and keep them secured at the right tension.
Quick and simple to adjust by hand or with a tool, it's worth starting with your turnbuckle only partially engaged so that you can choose the tension you want once fitted. Simply turn the main body manually when releasing the threaded eye and ends. With your turn buckle attached, all you then need to do is make the turnbuckle tighter by twisting it to find the tension. You may need a screw driver or the claw of a hammer to help you tighten the central strainer too.
Remember though,wire ropes must not become twisted as if they are they could be considerably weakened.
The US type Hook and Hook Turnbuckle feature an open body. These turnbuckles are available in sizes ranging from 1/4" to 3/4" to fit every project and are made from grade 304 or 316 stainless steel for maximum corrosion resistance and durability. They are ideal for marine and industrial applications.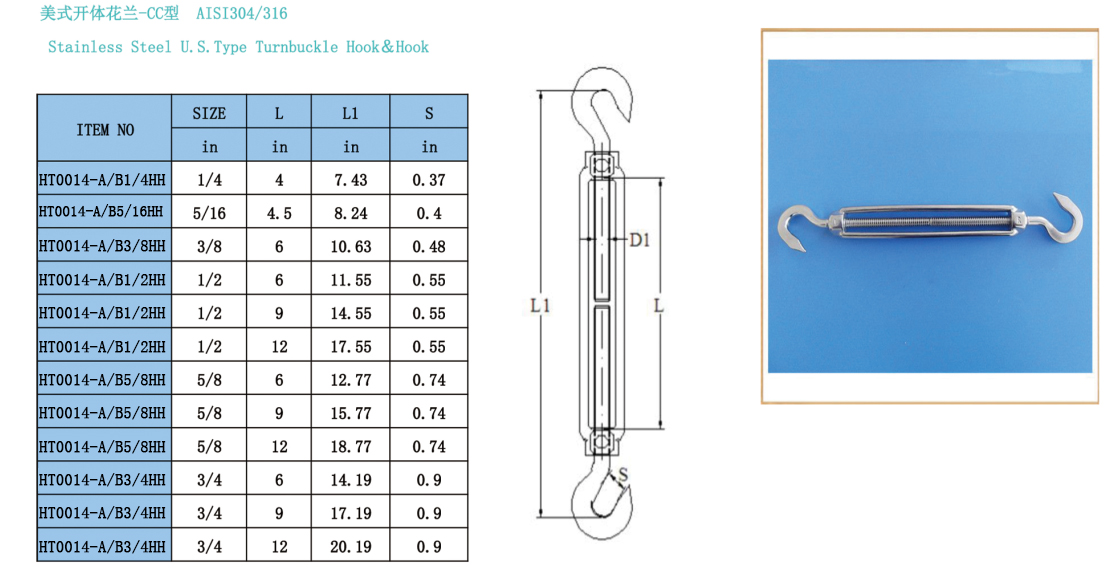 Come and order your US Type Closed Body Turnbuckle Hook and Hook
Go ahead and order your turnbuckle hook & hook
From our large warehouse, at Haito Rigging we store turnbuckle hook & hook studs in a huge range of shapes and styles. To make an order with us, all you need to do is complete our contact form here.
If you wish to ask a question or need further advice, you are welcome to contact us. We'll be happy to help.
We are always available for clarification and for order.
We look forward to hearing from you!