Stainless Steel Hand Crimp Extra Long Threaded Stud Terminal End Fitting For 1/8'' and 3/16'' Cable.
Long Threaded Terminals provide tensioning for your cables and is typically used for longer runs where more tensioning ability is required. These Terminals have the most traditional way of installing a cable railing and are paired with a second Terminal, a Deck Toggle or a Stemball Swage. They can be used in any type of end post: wood posts, aluminum or steel and are good for indoor or outdoor applications. The Terminals are T316 ''marine grade'' stainless steel and include a Stainless Hex Nut. The Terminal hand-crimps onto the ends of your cable runs using a Hand Crimper Tool.
The Hand Swage Extra Long Stud is perfect for outdoor or indoor projects and has an excellent shine and radiance to numerous marine, industrial and architectural applications. This hand swage fitting is made from 316 "marine grade" stainless steel for maximum corrosion resistance and durability and are available for cable sizes 1/8" and 3/16". It Looks much nicer than galvanized and holds up against corrosion.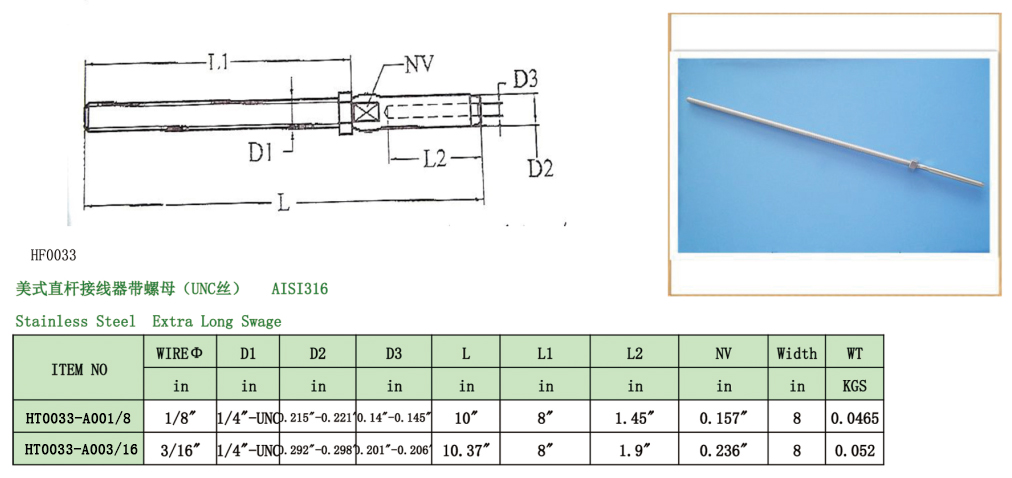 Come and order your Hand Swage Extra Long Stud Terminal End Fitting For 1/8'' and 3/16'' Cable.
Haito Rigging supply a range of cable railing accessories.They come with a variety of fittings for each end to suit your particular application.
To put in your order, just fill out our short inquiry form here, but please do ask us if you need anything custom-made.
If you wish to ask a question or need further advice, you are welcome to contact us.we'll be happy to help.
We are always available for clarification and for order.
We look forward to hearing from you!