Swageless Surface Mount Cable Turnbuckle Tensioner for 1/8″ and 3/16'' Cable.
Being a swageless fitting means you won't have to use a swaging/crimping tool while connecting the cable. The heads are tightened and loosened around the cable with regular wrenches. We strongly recommend having a cable cutter tool on hand as you do the install. other methods for cutting the cable may not produce a clean enough cut to fit into the swageless jaws.
T316 Marine Grade Stailnless Steel Surface Mounting Swageless Deck Toggle Tensioners are T316"marine grade"stainless steel that attach to 1/8'' or 3/16'' diameter cable without a crimper or a hand swaging tool. This makes installation more forgiving as you can detach the terminal from the cable and re-cut if needed.
The toggle allows you to adjust the pitch of your cable run up to 135 degrees or do a straight run. Great for stairs, angled pitch, elevation changes, or straight and level runs in your railing or marine application. Our stainless is suitable for outdoor or indoor and has an excellent shine and radiance to it. Looks much nicer than galvanized and holds up against corrosion. Perfect for installation on exterior decks, marine rigging, or interior applications.
Two mounting screws (not included) is all your will need to mount your toggle. We recommend using Stainless Hex Head lag screws. Haifan Surface Mounting Swageless Deck Toggle Tensioners are for cable runs that must attach to the surface of a support structure (deck, wood, concrete, etc).
These are tensioners that will tighten the cable for you. Pair these with one of our Terminals or use a cable turnbuckle / tensioner on both ends for longer runs or runs with turns in them. We recommend 1/8″ or 3/16'' cable for indoor or outdoor projects because it allows for better scenic viewing while still passing building code in most areas. Please check local building codes before purchasing and installing.
- Quick and easy installation
- No special tools required
- Fits 1/8 inch cable
- Marine Grade 316 Stainless Steel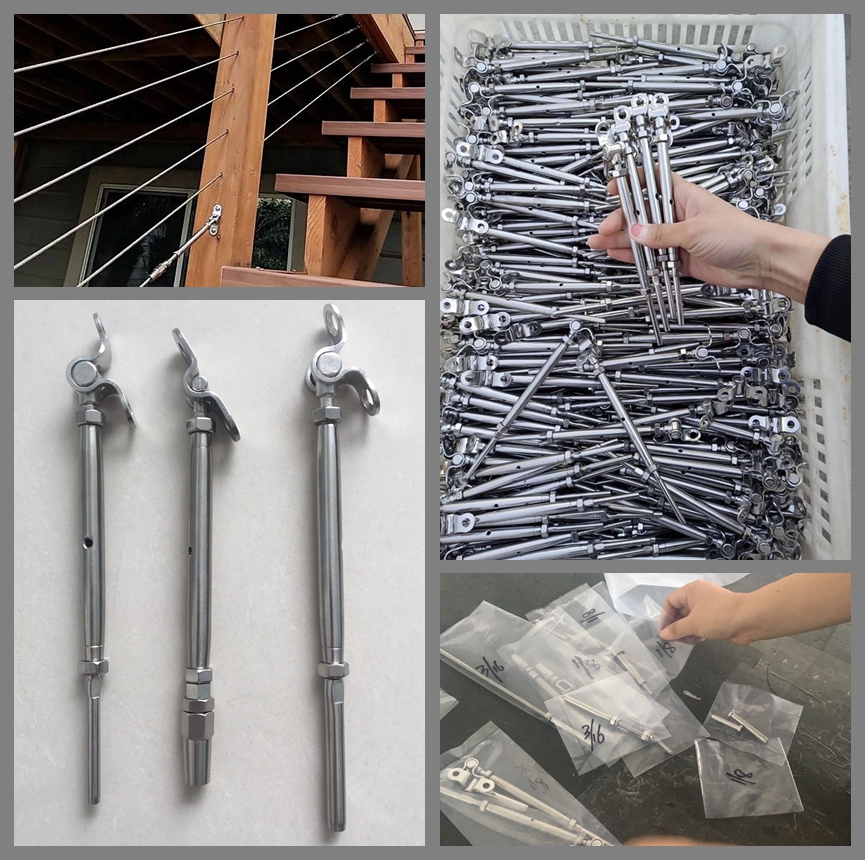 Get ordering your Swageless Surface Mount Cable Deck Toggle Turnbuckle Tensioner for 1/8" and 3/16'' Cable.
Haifto Rigging supply a range of cable railing hardware fittings. They come with a variety of fittings for each end to suit your particular application.
To put in your order,just fill out our short inquiry form here,but please do ask us if you need anything custom-made.
If you wish to ask a question or need further advice,you are welcome to contact us.we'll be happy to help.
We are always available for clarification and for order.
We look forward to hearing from you!