Stainless Steel Shackles
Stainless steel shackles are a speciality here at Haito Rigging.They serve as a perfect accompaniment to stainless steel wire rope to create the perfect wire rope assembly for your operation.
Stainless Steel Shackles–High Resistance
Stainless steel is one of the most resistant metals around.The addition of chromium during the manufacturing process creates a chromium oxide film on the finished product;it is this which gives stainless steel its high resistance. Stainless steel shackles have high corrosion resistance and are popular throughout the marine industry and aviation industries as well as oil and gas. Stainless steel shackles are strong,resilient and versatile and it is because of this that it has become an important piece of equipment in many industries.
Stainless steel shackles also boast a more pleasing appearance than the galvanized steel version making them ideal for use in more architectural applications.Yacht rigging, stair balustrades, decking and other barriers are all common places where you may see a stainless steel shackle,though they are used in a vast array of areas.
Stainless steel shackles may cost a little more but they are strong and highly corrosive resistant and so have a key advantage over normal steel.
Long D Shackles
If you work in the construction industry then you will know that sometimes a special type of shackle is needed.This is especially so during the ground preparation work.Our range of long D shackles (piling shackles) are ideal for use throughout many types of ground prep tasks.
About Long D Shackles (Piling Shackles)
Long Dee shackle stainless
Long D shackles are also called piling shackles as they are commonly used for anchoring to
Long D shackles
Steel piling sheets for shoring up the ground.They need to be longer than a standard D shackle to enable them to be located through the hole lower down the piling sheets.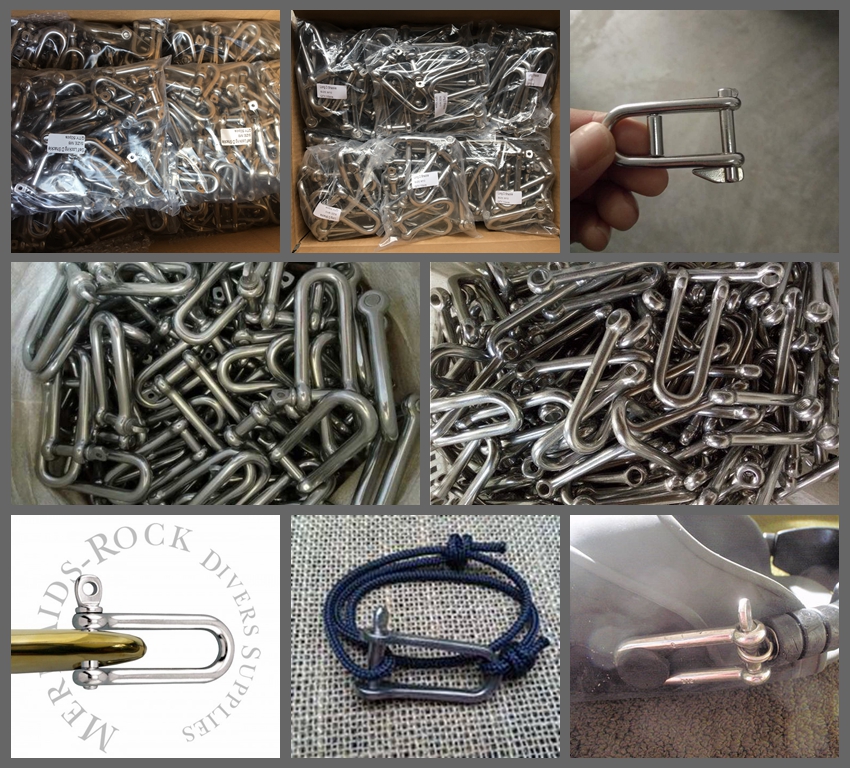 These high tensile steel shackles comes in a range of sizes to meet many situations. With 1 tonne up to 5 tonne WLL's and a few incremental sizes in between we should have a long D shackle to suit your weight needs.see the chart for more details.