Rigging screw swage swage – robust and weather resistant
Also referred to as barrel strainers, balustrading wire adjusters, and closed body turnbuckle tensioner's it's vital that these types of rigging screws are always swaged on to wire rope to maintain tension and safety.
They're designed to work so that that the steel wire rope sit inside the swage end and is then pressed on to the rigging steel wire under high pressure using a hydraulic press. This then makes an inline balustrade or rigging adjuster.
With sizes available to fit 3mm, 4mm, 5mm, 6mm, and 8mm steel wire rope the only thing you really need to remember is to make doubly sure you're purchasing the right rigging screw to match the wire rope diameter you're using. Most commonly put to use in wire rope rigging work for example in the sailing and leisure industries.
These closed body rigging turnbuckles are suitable for cable sizes 1/8" to 3/4". This hand swage turnbuckle features two hand swage studs and a closed style body. Commonly used in marine, industrial and architectural applications, steel wire rope balustrades and architectural rigginging where adjustment is needed.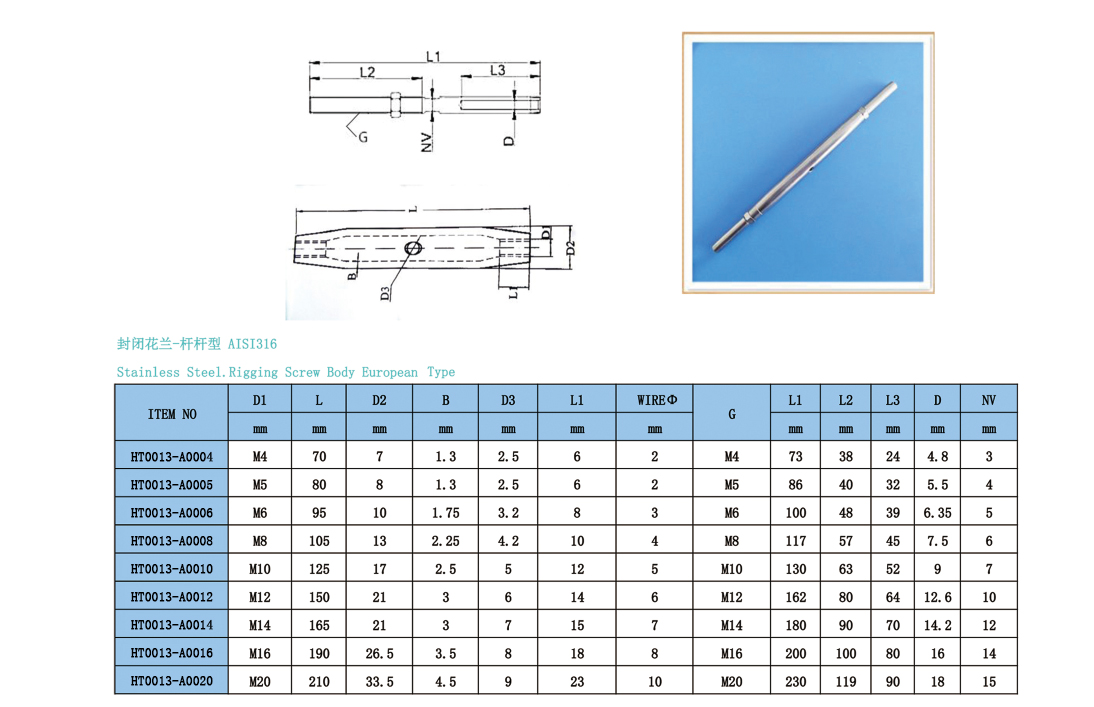 Place your order for your rigging screw with swage
Haito Rigging is pleased to sell rigging screws with swage studs in a broad spectrum of lengths and designs. No matter if you need the screw for securing rigging or for any other work,this type of screw can fulfil all sorts of requirements.
If you wish to ask a question or need further advice, you are welcome to contact us. We'll be happy to help.
We are always available for clarification and for order.
We look forward to hearing from you!