Stainless Steel Hand Crimp Extra Long Threaded Stud Terminal End Fitting for 1/8'' and 3/16'' cable
Extra Long Thread Stud Terminal Wire Cable Tensioner – Use with 1/8″ and 3/16'' Cable – Type 316 Stainless Steel
Getting ready to install an extended wire railing and want a cable tensioner that will have more than enough tensioning ability for the job? This 10″ swage stainless cable tensioner is a great option. They are made with type 316 stainless steel so you can install them indoors and outdoors. Customers have used them for both residential and commercial applications. Some decide to use a tensioner on both ends which produces a uniform look all around, and for the ability to tension cable from both ends when turns / angles are involved.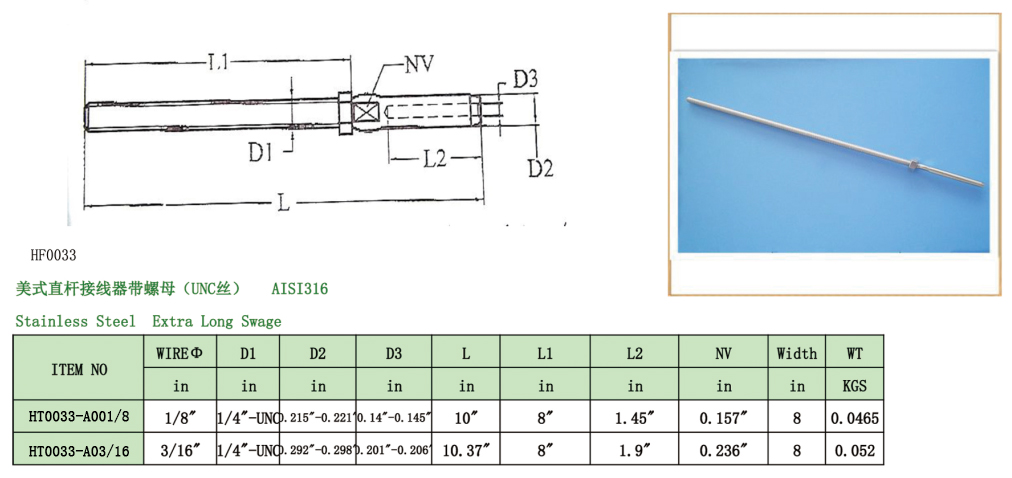 If you would like a cable anchor terminal for the opposite end, we have a handful of options commonly used with this tensioner. Our Angle Stud cable anchor is completely concealed within metal posts once installed – you just see the cable itself coming from the post. Then we have our Stud or Dome headed terminals that both show little amounts of hardware – it just depends on your preference for the terminals head design you like most.
This wire cable tensioner is designed for use with 1/8″ or 3/16'' steel cable. For wire railings, we recommend using the 1×19 cable configuration option. This construction isn't rough to the touch which is ideal for a railing, plus it gives of a better shine compared to other popular options.
You can finish the ends of this wire cable tensioner with the acorn nuts that are included or we have Round End Caps that also look really good installed.
(You will need a cable swaging tool in order to secure wire rope to these fittings)
Come and order your Extra Long Stud Terminal End Fitting for 1/8'' and 3/16'' Cable
Haito Rigging supply a range of cable railing hardware accessories.They come with a variety of fittings for each end to suit your particular application.
To put in your order, just fill out our short inquiry form here, but please do ask us if you need anything custom-made.
If you wish to ask a question or need further advice, you are welcome to contact us.we'll be happy to help.
We are always available for clarification and for order.
We look forward to hearing from you!