What are Rigging Screws and Turnbuckles ?
Rigging screws and turnbuckles are sometimes referred to as a wire rope tensioner, bottle screws, barrel strainers or straining screws and are a special type of fitting which are used to enable the tensioning of wire ropes. Once fitted the tension of the rope can easily be adjusted whenever you need to, whether it is to tighten or loosen the rope. All that is needed is to turn the main body or barrel.
They are commonly used in rigging applications and anywhere that the wire will need tightening to a unique rigidity to fit its objective, for example, bridges, balustrades, staircases and hanging shelves. They are often utilised for use as barriers (instead of fencing) to avoid access to certain areas or as a safety barrier, but are easy on the eye. For example they are used on castle ramparts to allow the public to be able to walk around them safely,yet they do not intrude too much on the original nature of the buildings.
Rigging Screws have the closed barrel type centre and so look more aesthetically pleasing whilst Turnbuckles have an open body/centre piece which turns around the visible screws. The definition of a turn buckle is type of coupling which possesses internal screws that are used to connect two wires or rods, end to end in order to adjust the tension.
Stainless Steel Rigging Screw Machined Swaged Jaw and Swaged Stud– professional grade and reliable
These contemporary rigging screws are designed from top grade stainless steel bars.These are then buffed to create a high-shine finish.
Perfectly designed for adjusting the tension of your wire rope as needed, as well as balustrade systems and other tensioning methods. Additionally, they can withstand moist air and salt so are very tough.
Rigging screw welded jaw swage studs are very commonly used in the sailing, marine and fishing industries.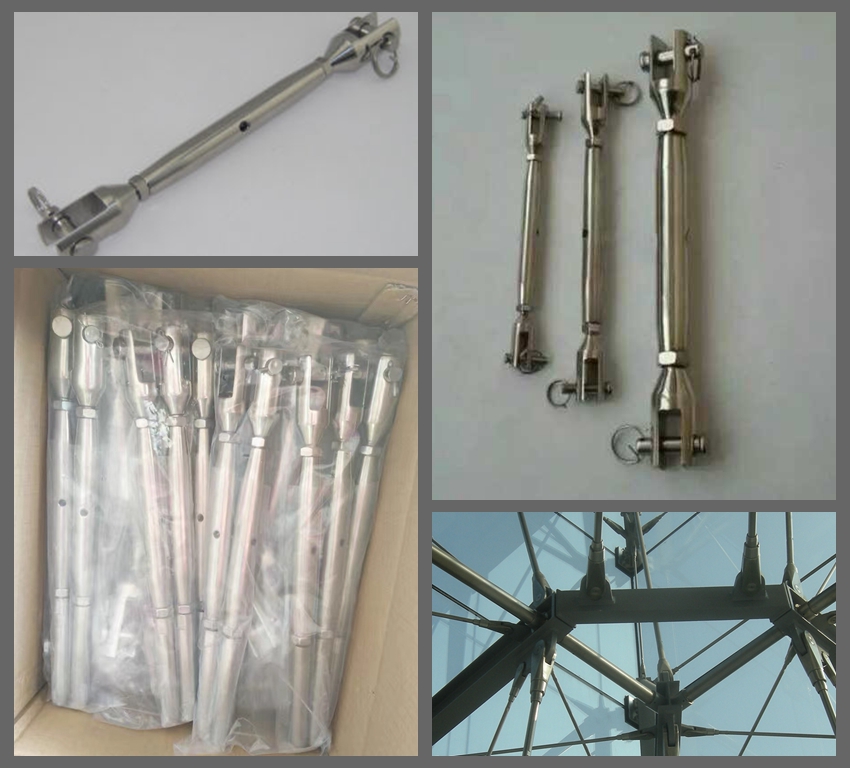 The Rigging Screw Jaw and Swage Stud JIS type Turnbuckle fits cable sizes 2.5mm and 10mm. This turnbuckle features a hand swage stud, toggle and a closed style body. It is made from grade 304 and 316 stainless steel and is used in marine, industrial and architectural applications.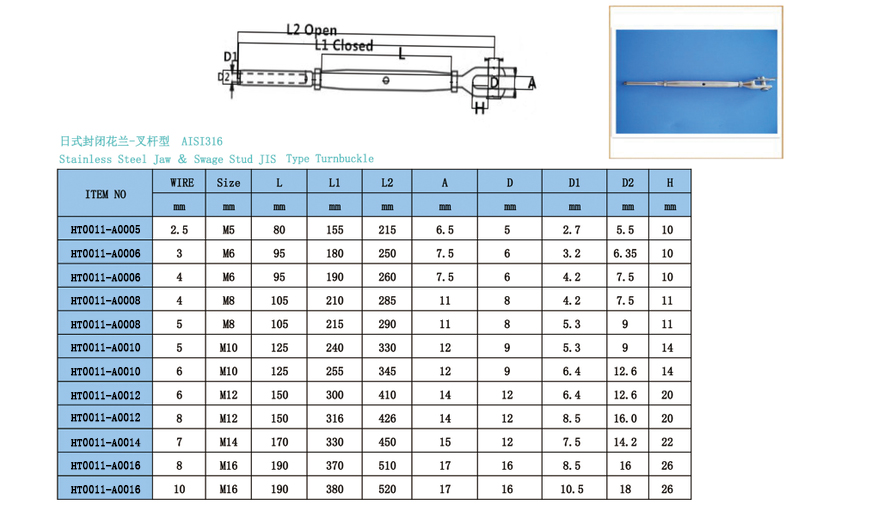 Go ahead and order your Stainless Steel Rigging Screw Machined Swaged Jaw and Swaged Stud
Haito Rigging offer rigging screw welded jaw/swage studs in a huge spectrum of designs.
To place an order, just fill in a rapid online form here.
If you wish to ask a question or need further advice, you are welcome to contact us. We'll be happy to help.
We are always available for clarification and for order.
We look forward to hearing from you!