Stainless Steel Wire Rope Clips
Wire rope clips are quite a practical accessory to have when using wire rope, or rope of any type. Rope clips are normally utilised where splicing or socketing of the wire isn't practical. Rope clips are ideal for providing a temporary or provisional joint,securing 2 pieces of rope together tightly,making a solid connection,they may be used to form a full loop at the end of the rope to create a firm anchor point.
US type wire rope clips JIS type wire rope clips DIN741 wire rope clips stainless steel simplex rope clips stainless steel duplex rope clips
Using Wire Rope clips
A wire rope clip is utilised most commonly to fasten the loose end on a loop back of the wire rope. A wire rope grip typically consists of 4 simple parts;a'u' shaped bolt,a saddle and a pair of securing nuts. The 2 layers of the wire rope are positioned within the u bolt,the forged saddle subsequently fixes on top of the wire ropes on to the bolt,the 2 nuts then secure in place.3 or more clamps are sometimes used to terminate a wire rope.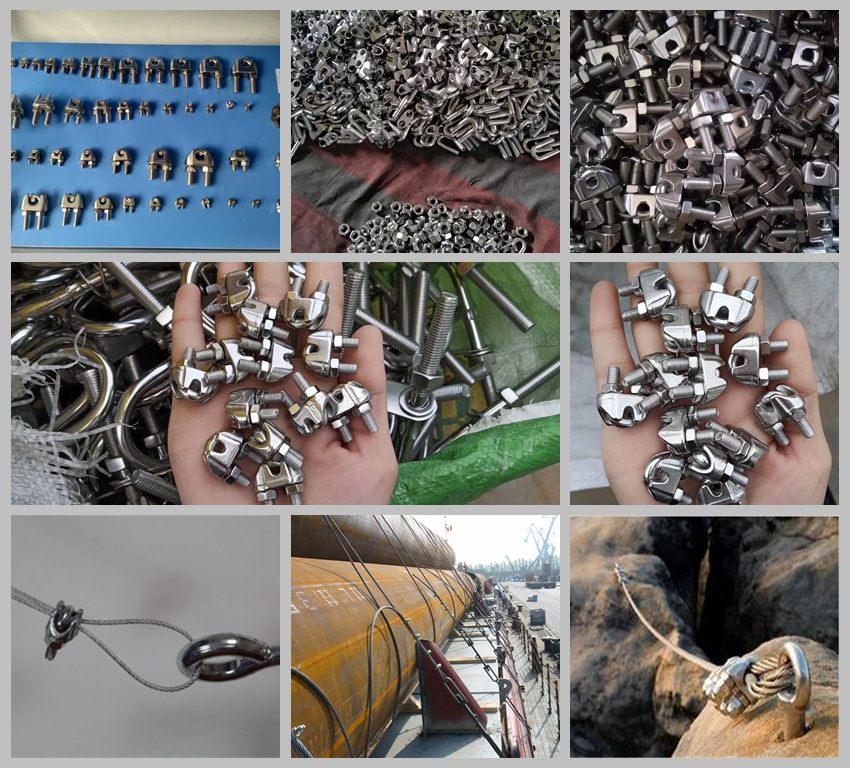 The Wire Rope Clip is available in sizes ranging from 1/8" to 1". This heavy duty wire clip is made from grade 304 or 316 stainless steel for maximum corrosion resistance and durability. It is ideal for marine and industrial rigging applications.