Eye Nuts & Eye Bolts
Haito Rigging is able to supply lifting eye nuts (often called "eyes" in the industry).Eye nuts are suitable for a variety of applications and provide a circular fixture with multiple purposes for lifting operations.Please find below all the product information that you'll need to know about this type of product. You can also find out more about Haito Rigging on our About us page.
More information on our eye nuts and eye bolts
Our eye nuts and eye bolts are extremely similar in nature.It gets its name 'eye' from the fact that the equipment itself resembles one,with a circle/oval shaped whole through which other equipment can be thread through.(For the difference between a bolt and a nut, please head to the section below).
This equipment is used to provide a safe,secure and strong fixing or anchoring point for dozens of operations.Made from strong stainless steel, this product will give you a solid point around which to base your operations.
There are a large number of internal eye diameters with the majority measuring between 16mm and 60mm in size, our eyes have a wide weight bearing limit stretching from 0.3 to 2.2 tonnes.
This product is most typically made from stainless steel.Our stainless steel is designed to resist corrosive and abrasive factors that can commonly occur during heavy industrial operations.If you would like to discuss other metals or other ways to protect your lifting gear,we would be happy to discuss the options with you.
JIS 1168 Eye bolt
Whatever job you have in mind,if you're searching for a high quality,strong JIS 1168 eye bolt,then look no further than our great range.
JIS 1168 eye bolt–long-lasting and reliable
It's most common to find JIS 1168 eye bolt being used to secure wire ropes or cables to a particular fixed structure.They're threaded on one end for optimum fit with no twisting,which makes them the ideal choice for a wide range of different purposes.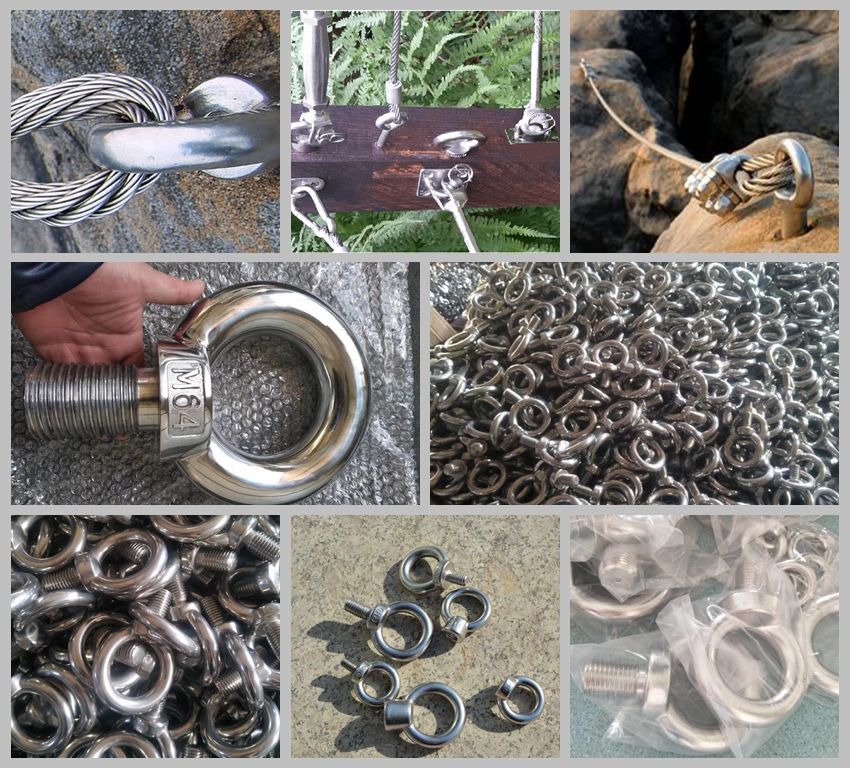 Made from strong 304 and 316 grade stainless steel,our highly reliable JIS 1168 eye bolts offer amazing value and are easy to screw in to most surfaces. They're totally rust-proof too,even when exposed to the wind,rain and other elements for very long periods of time.Available in sizes 6mm-22mm,they're ideal for many leisure activities like sailing and camping,as well as for industrial purposes.
Not quite sure if it's an eye bolt you actually require?It's easy to become blinded by all the different types and sizes of bolts when there are so many on offer.Haito Rigging also have a fine selection of wire rope grips and lifting shackles as well.